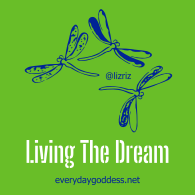 BuildASign Custom Signs & Stickers
Contrary to my declaration at the time, 2009 was *not* the last year I brought my purple "Living the Dream" stickers to BlogHer. No, I still had plenty to bring to BlogHer 2010. In fact, I'm pretty sure I still have some tucked somewhere. There is no end!
Will immediately note that the reason I have so many is that I had to order a large quantity to get purple. This was not the case at BuildASign, a place you might not think of to order stickers, right? In fact, when Megan from BuildASign reached out to me to see if I wanted to try a product from their site, I actually wrote back and said, "Don't you just do big things? Like bumper stickers?"
I've been wanting a new little sticker for a while now. I've also been wanting to put off my next business card order from Moo. I LOVE my Moo business cards, but I'm still in unemployment recovery and I'm trying to space out my business expenses this year. With BlogHer 11 coming up I was in a quandry. I'm already volunteering this year for free registration (hooray!) and sharing a room with not one, but two friends. But I can't go to BlogHer without something that has my blog and my Twitter on it.
BuildASign to the rescue!
Do you see the beautiful green goodness up there? Love it.
But the coolest thing about getting stickers from BuildASign is that they provided the dragonfly clip art AND did a mock up that I could jump online and edit - That's right, they have an online app where you can see your product and change the colors, fonts, images and text. I changed mine to green and waited to see if that was going to be a problem. No problem!
I did wish for a simple undo button on the app. You can change and change and change but there's no zip to undo function that I could find. Just have to keep changing. I'll also note that because of the way the stickers are printed, the edges of images aren't hard, and there was slight variation in the background color from sticker to sticker.
The stickers are matte rather than gloss, and they are vinyl, which you definitely want in a sticker. I put one on my laptop, and it's sticking great. Also, the paper on the back is conducive to jotting a note, so I'll be able to write my name and phone number down if I want. And the backing isn't the exact same size as the sticker, so it's easy to peel and stick them, which totally rocks.
All in all, I am superhappy with my stickers! They are totally cute, and they're definitely what I'm using at BlogHer instead of business cards. Thanks, Megan and BuildASign!
The stickers discussed above were given to me for free from BuildASign.